Halloween is a wonderfully frightful time of year with all the pumpkins, witches, wizards, ghost and ghouls!  With so many classroom parties and neighborhood get togethers we always need some go to treat ideas.  Here are 9 easy and quick Halloween cupcake ideas:
      Autumn Leaves Cupcakes: these artistic cupcakes are a wonderful addition to any dessert spread.  Using sugared gumdrops for the leaf cut outs make them very easy to assemble.
      The Great Pumpkin Cakes: this is a great unexpected way to assemble a seasonal treat – stacking them together to make the familiar pumpkin shape and finishing the décor with some orange and green frosting.
      Caramel Apples Cupcakes: these cupcakes bring together the warm and wonderful flavors of fall and is a bit of an unexpected Halloween treat
source
      Candy Corn Ghost Cupcakes: these fun cupcakes bring together two of the great Halloween symbols – ghost and candy corns.  Placing the googly eyes on top really give these cupcakes an unexpected pop.
      Glittery Pumpkin Cupcakes: these cupcakes keep things simple but certainly bring a little touch of class and elegance to your Halloween treat spread!  The glitter really shines and the little piece of green licorice for the pumpkin stem brings everything all together.
      Monster Cupcakes: these spooky little cupcakes are fun to make, delicious to eat, and give everyone a spooky surprise with their googly eyes.  Nothing says Halloween as much as a little monster staring right back at you!
      Dirt Cupcakes: every little kid will dig right into these Halloween cupcakes with their cookie dirt and gummy worms!
      Claw Cupcakes: these Halloween treats will give everyone a little scare.  They are simple but scary with their 'bloody' claw slashes right across the bright white frosting top.
      Witch's Cauldron Cupcakes: every Halloween includes some scary little witches so why not create a bubbling cauldron on top of your cupcakes!
I wish I new the genius that made the first mummy cupcake.  This cake looks impressive with very little effort.  Use a leaf piping tips to pie out strips of  vanilla frosting over a dark colored cupcake.  Add two eye, homemade or premade, and your done!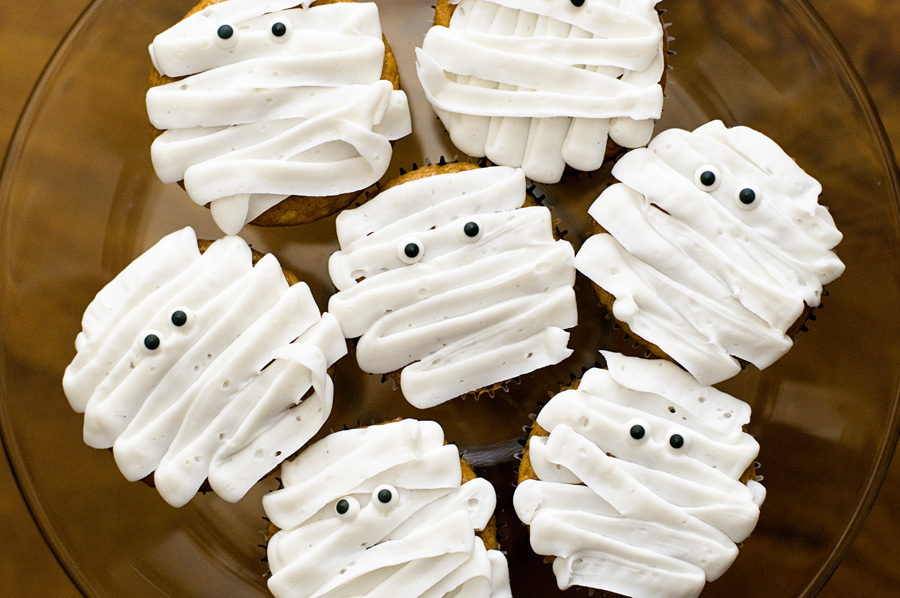 Monster claws look best with bright colors.  Pipe frosting with a star tip or a multi hole tip for a hair texture.  Claws can be formed out of fondant, colored tootsie rolls, starburst, or laffy taffy candy.